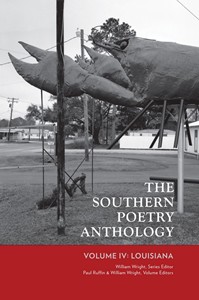 Introduction to
The Southern Poetry Anthology
Volume IV: Louisiana
"And its look, rude, unbending, lusty, made me think of myself."
  —Walt Whitman, "I Saw in Louisiana a Live-Oak Growing"
Contemporary Louisiana poetry is as rooted in rich literary history as it is in geography. Our poets are the kin of gigantic imaginations, as wild and unruly as they are tenacious. Our collective voice or timbre is shaped by the rich, sensitive, diverse, fecund, and troublesome geography in which we locate ourselves.
Louisiana poets work in an environment of rare literary energy. We write next to contemporary giants in other genres like Shirley Ann Grau, Ernest J. Gaines, Tony Kushner, William Joyce, and Richard Ford. Louisiana literary history is fueled by the energies of writers who came to Louisiana to sharpen their sensibilities and launch their careers: Lafcadio Hearn, Kate Chopin, Sherwood Anderson, William Faulkner, F. Scott Fitzgerald, Tennessee Williams, and Walker Percy.
And then there are the past's poets among us: Pinkie Gordon Lane, the first African-American to receive a Ph.D. from Louisiana State University and the first African-American Louisiana Poet Laureate (1989-1992). We rightfully stake claim to an association with the work and legacy of Robert Penn Warren, twice the United States Poet Laureate, who won two Pulitzer Prizes in poetry and one in fiction, who wrote the influential texts, Understanding Poetry and Understanding Fiction, and who co-founded and edited (1935-1942) The Southern Review with Cleanth Brooks when he was on the Louisiana State University faculty (1934-1942). Part of our poetic identity is linked to Bob Kaufman (1925-1986), born in New Orleans to a black Catholic mother from Martinique and a German Orthodox Jew. In the 1940s Kaufman traveled to New York City where he met Allen Ginsberg and William Burroughs, and then to San Francisco, where he joined Gregory Corso, Jack Kerouac, and Lawrence Ferlinghetti and became part of the influential Beat scene. Kaufman founded Beatitude magazine in 1955. In Europe, and especially in France, Kaufman was known as "the American Rimbaud." And, not least, there is Walt Whitman, who tried his hand at being a journalist in New Orleans for a few months in 1945. And while the journalism job did not work out, his description of the oak in his famous Louisiana poem could be a description of Louisiana poetry itself: "live-oak glistens there in Louisiana, solitary, in a wide flat space. . . ."
One of the most active and generous advocates for contemporary Louisiana poetry was Maxine Cassin (1927-2010), to whom this volume of The Southern Poetry Anthology is dedicated. A philosophy graduate of Newcomb College, she began as a formal, philosophical poet who went on to publish four books of poems: A Touch of Recognition, 1962; Turnip's Blood, 1985; The Other Side of Sleep, 1995; and Against the Clock, New and Neglected Poets, 2003. Besides writing poems, Cassin dedicated much of her time to the poetry of others, at first through her work with Richard Ashman in the 1950s on the New Orleans Poetry Journal, whose distinguished contributors included James Wright, William Stafford, Sylvia Plath, Donald Hall, and Vassar Miller. After the journal ceased publication, she published individual volumes over five decades as publisher and editor of the New Orleans Poetry Journal Press (including works by Miller, Everette Maddox, founder of the legendary Maple Leaf Bar poetry reading series, Ralph Adamo, and Charles deGravelles). She also published Malaika Favorite's poetry and art, Clarence John Laughlin's photographs, and, with Maddox and Yorke Corbin, edited the first Maple Leaf Rag anthology. The last book of poetry she published, Dale Matthews' Wait for the Green Fire, appeared only a few months before her death. And we have not yet heard the last of Cassin's voice: there is much of hers we've yet to discover.
Her dedication and resolve to promote poetry is beautifully captured in her poem "Determination" (in the volume Turnip's Blood) in which she so closely resembles the chameleon of the poem, chased and lost "among the roses," while retaining the voice of the speaker:
                The thorn in my flesh
                asks to remain embedded—
                now so much a part of me
                I shall not be undefended
                from whatever finds its way
                      beneath my skin.
In addition to the rich intellectual and philosophical threads woven throughout the sensibilities of Louisiana's contemporary poets are the interminable and undeniable essences of the earth. We are a people and a culture of the land. Even our urban areas define themselves in accordance to landscape: Our great city of the coast sits precariously below sea level, a fact that contributes greatly to its identity. Our great river, whose Ojibwa name Mississippi means just that, defines much of who and what we are. Our vanishing coastline is an urgent catalyst to poems and visual art. Our lesser rivers, the Atchafalaya, the Red River, and the Sabine shape our wetland designations and nature-consciousness from the northern borders to the Gulf of Mexico. Our lesser waters, like the bayous Lafourche and Teche, serve as ancient conduits that continue to characterize the culture of Louisiana Cajuns. The Kisatchie National Forest and the "hill" country above it sharpen our connection to the Native Americans who forever reside in cultural memory. In the truest sense, our poetry is indicative of a Creole nation: We are a mix of Native American clans and tribes, the ancestors of slaves, the descendants of free persons of color; we are Vietnam-Americans and Haitian-Americans, German-Americans, British-Americans, French-Americans. We are prairie people and bayou people, forest people and hill people, as well as citizens of great cities. We are poets of the countryside and of urbanity, poets of the street and poets who dwell in the state's academies. We are poets who have stayed put, poets who have but barely left the confines of our borders, and poets who have come from outside to live and work within. We may hold a national distinction in that citizens of Acadiana often refer to people living outside the region as les Américains even as they hold fierce loyalty to the ideals of the mother country. We may be home to one of the rarest cities in the world, New Orleans, with its great centers of learning, with its gumbo cultures, with its mysterious ability to let genuine refinement and decadence co-exist. Our poetry is made of this mix, this mélange that always sounds like jazz, like song, like poem.
Among the ninety-seven poets represented in this anthology are natives who still live and work in the state. Jack B. Bedell is a great poetry proponent as the editor of Louisiana Literature and co-editor of French Connections: A Gathering of FrancoAmerican Poets. Heather Ross Miller, in her commentary about his Come Rain, Come Shine, praises his poems as "[H]igh-spirited and unafraid, full of Louisiana Cajun zest, quick to anger and quick to forgive, and quick to offer unabashed praise for this world. . . ." John Biguenet repeatedly balances intellectual acuity with sensuous detail and David Middleton explores the spiritual though tangible reality. And each of these master poets offer the reader every kind of formal variation imaginable, the formalities never merely peripheral but integral to the poem and testament to their genius. Gina Ferrara is such a poet; as is Mona Lisa Saloy; Keagan Lejeune from Lake Charles; John Doucet from Thibodaux and Lafourche Parish; and Barry Ancelet, Caroline Ancelet, and Zachary Richard from Acadiana.
Many of Louisiana's poets have had to leave the region. Among them, the saucy, witty, wonderful David Kirby, who ties intelligence to levity and sincerity to unguarded affection. There are few poets in the world whose wide net, often filled with barbs, embraces so completely and pleasurably. Kevin Meaux's poems long for the passing beauties of the world and for the ways this beauty offers itself to us repeatedly. Sheryl St. Germain writes of addiction, abuse, desire, and falling headlong into the life she has been given. Her poems document her love of the earth, a poetic crossroads where art meets the call for responsible citizenry head-on. An equally great earth-writer is Martha Serpas, whose poems quest for spiritual entry. Hers is the work of a metaphysician. Serpas' poetic tropes are more than glued to our notions of how and what those things are in the world; they are also meditations and probes into the human mind, the human heart, human action and its consequences. Among the most magical, searing, and probing voices in Louisiana poetry is the voice of Yusef Komanyakaa. Born in Bogalusa, Louisiana, Komunyakaa became of one of America's greatest war poets with the publication of Dien Cai Dau (1988), an expression and articulation which continue through his recent Warhorses (2008). His Neon Vernacular: New and Selected Poems was the winner of the 1994 Pulitzer Prize. In 2007, Lt. Governor Mitch Landrieu presented Komunyakaa with the Louisiana Writer Award.
The state's body of poetry is enriched by the many poets who have come to us from other regions. Julie Kane, a winner of the Donald Justice Prize, has lived and worked in Louisiana for over three decades; her formal poetry is adventurous, brave, and unrelentingly frank in its investigations of the human condition. Catharine Savage Brosman's keen intelligence and lively heart gird themselves on equally lively and disarming formalism. Ava Leavell Haymon's sustained production is testament to her commitment to art, her commitment to continuing a dialog about the complexities of communication through and beyond myth, fairytale, and story-telling. John Gery's poems are perfectly at ease in formal expression without conspicuous formal scaffolding. Biljana D. Obradovic, a Serbian-American poet, offers penetrating, powerful, and disarming glimpses into American culture. Experimental poet Marthe Reed essentializes the idiosyncratic in her work. Adding their distinctive voices to Louisiana poetry are John Freeman, Denise Rogers, Peter Cooley, David Havird, and Ashley Mace Havird; each one of them teacher-poets whose bodies of poetry vary from single volumes to multiple volumes and whose work as poets and teachers make for the strong writing programs we have in the state.
The poets mentioned in this introduction are but a representation of what Louisiana poetry offers. Among the unnamed contributors to this volume are fine ekphrastic poets, bold experimentalists, some markedly postmodern. Some are elegists, some clarionists, some documentarians of both natural and man-made disaster and disorder of recent times. And all, the named and the unnamed, are explorers of the big themes that literature calls us to: identity, culture, and the great experiment of living in the world, living with ourselves, and living with each other.
Darrell Bourque
St. Landry Parish, Louisiana