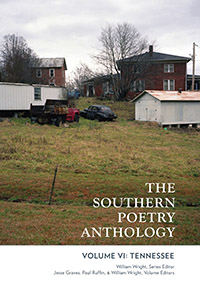 The Southern Poetry Anthology
Volume VI: Tennessee
288 pp. (2012)
Edited by Jesse Graves, Paul Ruffin, and William Wright.
ISBN-10: 1-937875-45-8
ISBN-13: 978-1937875459
The state of Tennessee is widely recognized as a home of great music, and its geographic regions are as distinct as Memphis blues, Nashville country, and Bristol old-time sounds. Tennessee's literary heritage offers equal variety and quality, as home to the Fugitive Agrarian Poets, as well as a signature voice from the Black Arts Movement. Few states present such a multicultural panorama as does the Volunteer State.
The poems in The Southern Poetry Anthology, Volume VI: Tennessee engage the storied histories, diverse cultures, and vibrant rural and urban landscapes of the region. Among the more than 120 poets represented are Pulitzer and Bollingen Prize-winner Charles Wright, Brittingham Award-winner Lynn Powell, and Agnes Lynch Starrett Prize-winners Rick Hilles and Arthur Smith.
The book includes an introduction from renowned poet Jeff Daniel Marion, who in 1978 received the first literary fellowship from the Tennessee Arts Commission. Too, the book celebrates relatively young and gifted voices. This important anthology will stand for many years as the definitive poetic document for the state of Tennessee.