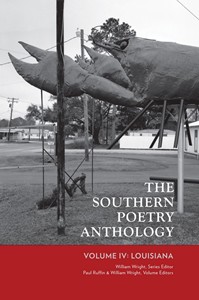 Foreword to
The Southern Poetry Anthology
Volume IV: Louisiana
Louisiana's poets are remarkably generous. As I worked to design this collection, more and more I found that many writers here champion a sense of togetherness, a close-knit literary kin who share—whether at present or in memory—a profoundly beautiful and unique area of the United States. This communal aspect of Louisiana poets is typified by Maxine Cassin's literary legacy, both in her poems and in others' works she encouraged and fostered, in Darrell Bourque's selfless support of the state's writers, evidenced in his introduction that follows, and in John Freeman, who continues to find and support fresh voice
This sense of community is most evident in the poetry, and in savoring the this collection several times, I noticed recurrent patterns and tendencies: First, many Louisiana poets are relatively comfortable with form, and, by extension, formalism. The reasons for this are manifold, but one factor is especially notable: Form gives order. In Louisiana, more than any other area of the American South, order is precious, particularly in a time when disorder, natural or man-made, has destroyed much of the beauty Louisiana poets hold dear. Poetry serves as one ideal form to make sense of this disarray, a verbal counter to chaos and a simultaneous homage to poetry of the past and the oral tradition that informs it. In this way, form is created and preserved, even if many qualities of the past on which it depends have been lost.
I also found Louisiana poetry preoccupied, like much of the South, with nature and natural motifs. Distinguishing Louisiana's poetry, however, is a prevalent thematic fixation on water. Water—whether storms, hurricanes, rain showers, ponds, lakes, creeks, or seascapes—is the central image with which many Louisiana poets meditate on the changeability and unpredictability of the environment, the hope for renewal, and the mutability of indentity.
Finally, the motif of water leads me to fecundity—a word that resonates strongly in these poems. Stemmed from what Bourque calls a pot of "gumbo cultures," Louisiana poetry delights in the fertility of the land, the give and 7 take of soil and sea, the warm womb that spawns a landscape rife with lush complexity. Undoubtedly, this beautiful landscape informs Louisiana poets' successes in balancing sound and sense, sonically sophisticated poems motivated by explorations of self and the importance of place. This celebration of fecundity anticipates dynamic resurgences of ravaged places, the inevitability of new life sprung from decay.
This volume would not exist in its present form without the generosity of Louisiana's poets. I consider this literary community a source of inspiration—not merely through the beautiful works included herein, but in the manner its members love and help each other while inhabiting this underappreciated, often misunderstood literary genre. Paul Ruffin and I appreciate this particular community's support to create this book, a convivial f&ecircte we are confident will resound throughout Louisiana, the South, and beyond
William Wright, Series Editor and Volume Editor